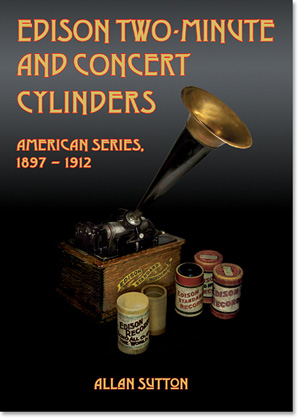 398 total pages • Illustrated
7" x 10" quality softcover

ISBN 978-0-9915279-7-7
---

ALLAN SUTTON is the author of numerous articles and books on vintage records and the early American recording industry, including Pseudonyms on American Records 1892–1942, A Phonograph in Every Home, and Recording the 'Twenties. He is the recipient of the Association for Recorded Sound Collections' 2013 Lifetime Achievement Award.


Edison Two-Minute and Concert Cylinders is the first study of these records to be compiled from the surviving company documentation (including the factory plating ledgers, studio cash books, remake and deletion notices, catalogs, supplements, and trade publications), along with careful inspection of the original cylinders. All American-catalog issues from 1897 through 1912, including the Grand Opera series, are covered.
Unlike previously published guides, which lack listings of the numerous remakes, this new volume shows all versions (even indicating those initially supplied by Walcutt & Leeds), along with the listing or release dates and distinguishing details for each. Plating dates for brown-wax pantograph masters and early Gold Moulded masters, which provide valuable clues to the long-lost recording dates, are published here for the first time.
Other features include:
Composer and show credits

Medley contents and interpolated songs

Accompaniment details

Pseudonym identification

Illustrated history of Edison cylinder production during the National Phonograph Company period

Detailed user's guide

Artist and title indexes