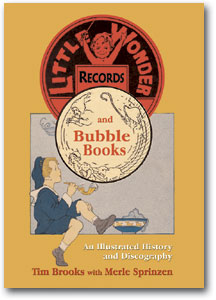 7" x 10" quality softcover
232 pages
50 illustrations
ISBN 978-0-9632903-9-8
Collectors have long been intrigued by Little Wonder. They look like children's records, but the repertoire is largely the popular songs of the day. In 1917 Little Wonder was joined by another diminutive disc line, that was for children — the Harper Bubble Books.
Tim Brooks and Merle Sprinzen reveal the often-turbulent story behind these labels in a richly illustrated and carefully documented history. The discography identifies the anonymous performers (including Al Jolson, the California Ramblers, and other star) and holds many surprising new discoveries — even picture discs, a recording by presidential candidate Warren G. Harding, and a group of operatic recordings issued only in Italy.
---
TIM BROOKS is the author of the multiple-award–winning Lost Sounds: Black and the Birth of the Recording Industry and other major works chronicling early recordings and television. He is the winner of a 2007 Grammy and an ARSC Lifetime Achievement Award.

MERLE SPRINZEN is a senior marketing and business strategist and angel investor. She earned her PhD from Harvard University while a National Science Foundation Fellow.