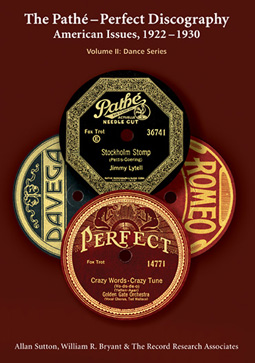 382 total pages
7" x 10" quality softcover

ISBN 978-0-9915279-6-0
---
WILLIAM R. BRYANT's posthumously published works include the Zonophone, Emerson, and Bell-Arto discographies for Mainspring Press.

ALLAN SUTTON is winner of the 2013 Lifetime Achievement Award from the Association for Recorded Sound Collections.

THE RECORD RESEARCH ASSOCIATES included Perry Armagnac, Walter C. Allen, George Blacker, Carl Kendziora, Len Kunstadt, and other experts affiliated with Record Research magazine.
The Pathé-Perfect Discography covers all recordings (including those from outside sources) that were issued jointly on American Pathé and Perfect. Coverage begins with the introduction of Perfect in 1922 and extends through the end of the American Pathé label in early 1930. "Phantom" Pathé issues (for which catalog numbers were assigned in 1930, but which apparently were unissued) are also included.
The discography is organized by Perfect catalog numbers and includes all American Pathé and Pathé Actuelle issues, as well as corresponding issues on American subsidiary and client labels.
Special attention has been paid to the joint Cameo and A.R.C. issues. The Record Research group used synchronized turntables to determine identical, alternate, and unrelated takes; actual, assigned, and false master numbers; artist pseudonymous, and other fine points. Their findings, many of which supplement or correct what appears in some current dance-band discographies, are published here for the first time. Every record appears on its own line, with verbatim label credits and all relevant markings in the wax, from first-hand inspection of the original discs.
Features include master numbers (and sources, for licensed masters), including many previously unknown numbers from "sunken-label" pressings, which were discovered on the Perfect Form 19 cards • Takes (actual and false, with an explanation of how to tell the difference • Actual recording dates, when verifiable from the Compo or Plaza-ARC files, or the logbooks of Ed Kirkeby and others • Estimated (month-year) recording dates for undocumented masters • Release dates, from the original Pathé and Perfect dealers lists • Identification of artist pseudonyms • Composer and show / film credits • Medley contents.
Includes user's guide and title and artist indexes. (A detailed, illustrated history of the American Pathé operation appears in Volume 1.)